Cocky Valve configuration (correct ball floats to use) click here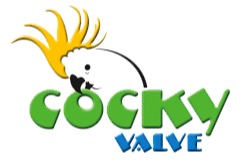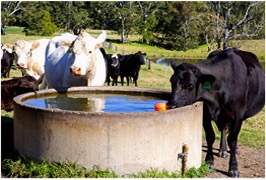 The Cocky Valve Ballcock is produced in marine grade stainless steel it is unblockable, unbreakable and provides a full flow delivery of water at a far superior rate than any of its competitors.

The Cocky Valve Is The Ultimate Solution in Stock Trough valves.
The Cocky Valve is incredibly simple in construction. Made from 316 stainless steel the only component not made from the material is the reversible rubber sealing washer.
The simple design puts an end to frustration caused by blocked, erratic or broken stock trough valves. The valve is indestructible and requires little if any maintenance.
Heavy duty stainless arm pivots on a large split pin. Alternate split pin holes in the body allow the arm to be attached in a high pressure or low pressure position. The valve can handle high levels of trash in the water. Water exits sideways from the valve to cut through turbulence.
Can withstand pressure of 150psi but is equally effective in low pressure applications.
For a video explaining the Cocky Valve click here CockyValve Video
For a Cocky Valve testimonial click here Cocky Valve Testimonial
For ball floats & replacement parts please refer to (click here) Ball floats & spare parts

Other Cocky valves are available. For full Cocky range please click here cocky-catalogue
Cocky Valve configuration (correct ball floats to use) click here
COCKY VALVE STAINLESS STEEL HIGH FLOW BALLCOCK
| Code | Description | Size |
| --- | --- | --- |
| CFVB020 | Cocky float valve body | 20mm |
| CFVB025 | Cocky float valve body | 25mm |
| CFVB032 | Cocky float valve body | 32mm |
| CVFB040 | Cocky float valve body | 40mm |
| CFVB050 | Cocky float valve body | 50mm |
| CFVA400 | Arm for Cocky float valve | 400mm long |
| CFV150 | Heavy duty Plastic float for Cocky valve with 10mm brass insert | 150mm Orange |
| CFV200 | Heavy duty Plastic float for Cocky valve with 10mm brass insert | 200mm Orange |
| CFVAM10516 | Cocky valve adaptor | M10-5/16" BSW |
| CFVC300M1 | Chain for Cocky valve | 300mm long M10 nipple |
| CFVSP | Set of split pins for Cocky valve body | n/a |
| CFVW | Washer for Cocky valve body | n/a |
| CFVWS | Washer seat for Cocky valve body | n/a |