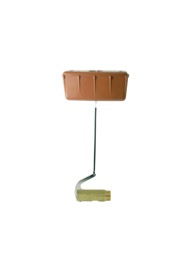 Philmac's unique and compact trough valve is essentially a float valve but has been designed specifically for stock troughs. The valve hugs the trough wall and has no long
lever arm, virtually eliminating the risk of damage caused by stock. By using a cord/float attachment, stock are no longer able to damage levers or manipulate flow.
The extensive range includes quality brass valves and high impact, UV resistant polypropylene valves. The brass version comes with a stainless steel seat ensuring longevity of the product. This Australia made product is not only robust but versatile as it can be installed in a horizontal or vertical position within the trough.

FAST AND EASY INSTALLATION - MULTI-POSITION INSTALLATION
The valves have been designed to work in either a vertical or horizontal position for flexible installation.
BSP INLET THREADS
The Rural, Irrigation and Plumbing sectors use British Standard Pipe (BSP) threads as a standard. Philmac also uses these thread types across the valve range to ensure
compatibility with other threaded fittings and make installation easy.
CORD ATTACHMENT
The cord is easily attached to the float and therefore adjustment of the cord is a quick and simple process.
COMPLETE SECURITY - RELIABLE OPERATION
Consistent high quality injection moulded plastic bodies or machined brass plus a stainless steel lever arm and stainless steel seat (brass version) means years of reliable
operation.
CORROSION RESISTANT
Manufactured with plastic, stainless steel and brass components which all have a high degree of corrosion resistance ensuring the longevity of the valve in harsh agricultural conditions.
LEVER DAMAGE
Stock can no longer stampede/damage lever or force unnecessary water out of valve, as the float operates independently of the small lever on the valve.
HIGH PERFORMANCE
Manufactured from advanced thermoplastic materials: Philmac plastic trough valves are manufactured from lightweight high performance thermoplastic materials, which have
excellent impact, UV and corrosion resistance.
LOW PRESSURE SHUTOFF
Trough valves are designed to seal off with very low pressure providing there is water in the tank to provide upthrust on the float.
WIDE RANGE
The range of trough valves is comprehensive and includes sizes ¾", 1" and 1¼" (DN20, 25 and 32).
SHUT OFF TEST
Valves are tested for shut off against a hydrostatic water pressure of 300 kPa (43 psi) or 3 bar.

For ball floats & replacement parts please refer to (click here) Ball floats & spare parts

PHILMAC STOCK PROOF TROUGH VALVE
| Code | Description | Size | Pressure |
| --- | --- | --- | --- |
| AQ400P | Philmac stock proof trough valve | 20mm | 300 kPa (43 psi) or 3 bar |
| AQ500P | Philmac stock proof trough valve | 25mm | 300 kPa (43 psi) or 3 bar |
| AQ600P | Philmac stock proof trough valve | 32mm | 300 kPa (43 psi) or 3 bar |
| AQ900P | Float & poly tube for AQ600P | N/A | N/A |