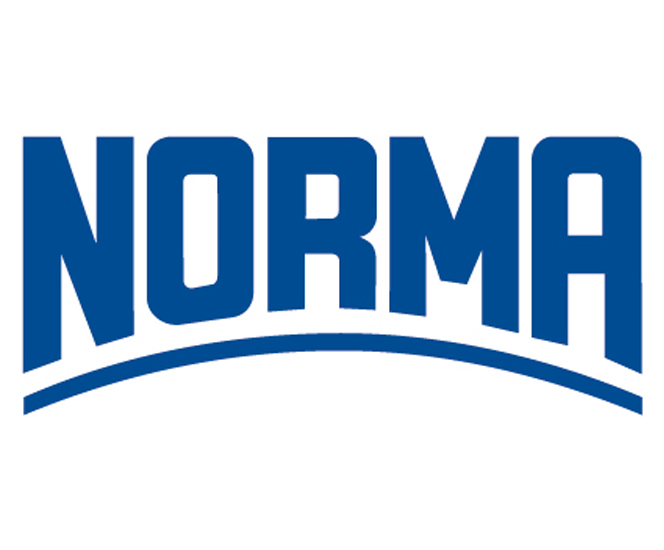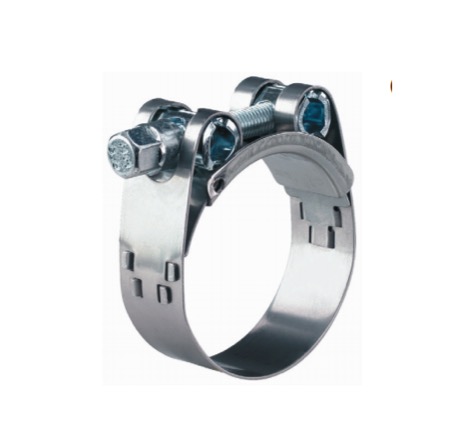 NORMACLAMP® GBS are designed primarily for use in applications where hose clamps must meet stringent requirements. In particular if suction and pressure hoses – complete with plastic or steel inserts and high shore hardness values – are to be connected and attached. They are therefore particularly suitable for use on commercial and special vehicles. Their standout feature is the exceptionally high levels of band tensile force they demonstrate. NORMACLAMP® GBS clamps are also extremely easy to install, whether you're using manual, pneumatic or electrical standard tools.
Made in Germany

W4: Banding Housing & Screw: Stainless Steel (1.4016-430) New specially designed bolt with integrated spacer – improved performance; captive
Wide clamping range • High tightening forces

Reinforced band loops – ability to withstand much higher torques

Mechanically locked closure – no welding spots and no contact corrosion
Robust band with rounded edges – prevents injuries and damage to hoses.

Hollow trunnions – reduces the tensile forces on the bolt and to the mechanical lock

Corrosion resistance in salt spray testing - Min. 240 hours
Heavy-duty clamps for multiple applications: Marine Indusrty: Machine building • Agricultural machines • Chemical industry • Building machines • Irrigation systems • Engine manufacturing • Ship manufacturing • Pump and filter • Railway industry • Mining Industry
Norma Heavy Duty Stainless Steel Hose Clip W4 Spec Sheet

For full Norma range available on request please click here Norma
NORMA HEAVY DUTY FULLY STAINLESS STEEL HOSE CLAMPS W4.
Code
Description
Clamping Range
Band Width
Pack Size
NHDCS017
Norma heavy duty fully s/s hose clamps
17-19
18mm
NHDCS019
Norma heavy duty fully s/s hose clamps
19-21
18mm
NHDCS021
Norma heavy duty fully s/s hose clamps
21-23
18mm
NHDCS023
Norma heavy duty fully s/s hose clamps
23-25
18mm
NHDCS025
Norma heavy duty fully s/s hose clamps
25-27
18mm
NHDCS027
Norma heavy duty fully s/s hose clamps
27-29
18mm
NHDCS029
Norma heavy duty fully s/s hose clamps
29-31
18mm
NHDCS031
Norma heavy duty fully s/s hose clamps
31-34
18mm
NHDCS034
Norma heavy duty fully s/s hose clamps
34-37
18mm
NHDCS037
Norma heavy duty fully s/s hose clamps
37-40
18mm
NHDCS040
Norma heavy duty fully s/s hose clamps
40-43
18mm
NHDCS043
Norma heavy duty fully s/s hose clamps
43-47
20mm
NHDCS047
Norma heavy duty fully s/s hose clamps
47-51
20mm
NHDCS051
Norma heavy duty fully s/s hose clamps
51-55
20mm
NHDCS055
Norma heavy duty fully s/s hose clamps
55-59
20mm
NHDCS059
Norma heavy duty fully s/s hose clamps
59-63
20mm
NHDCS063
Norma heavy duty fully s/s hose clamps
63-68
20mm
NHDCS068
Norma heavy duty fully s/s hose clamps
68-73
25mm
NHDCS073
Norma heavy duty fully s/s hose clamps
73-79
25mm
NHDCS079
Norma heavy duty fully s/s hose clamps
79-85
25mm
NHDCS085
Norma heavy duty fully s/s hose clamps
85-91
25mm
NHDCS091
Norma heavy duty fully s/s hose clamps
91-97
25mm
NHDCS097
Norma heavy duty fully s/s hose clamps
97-104
25mm