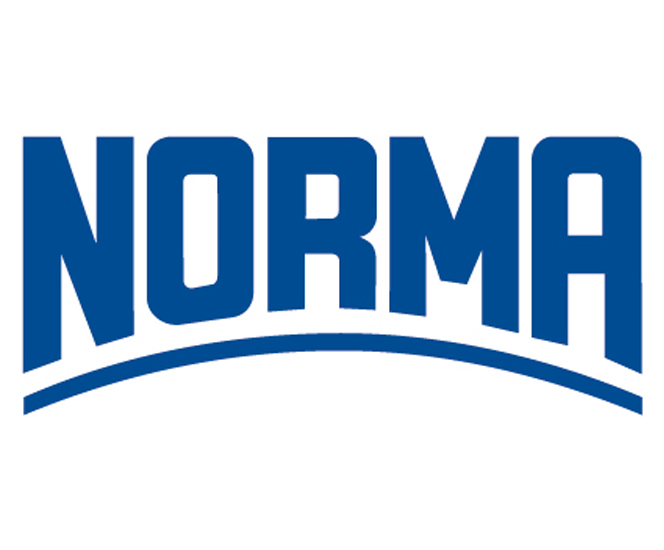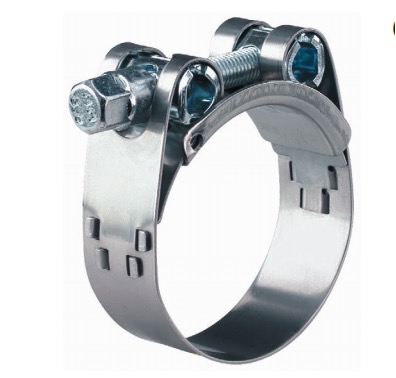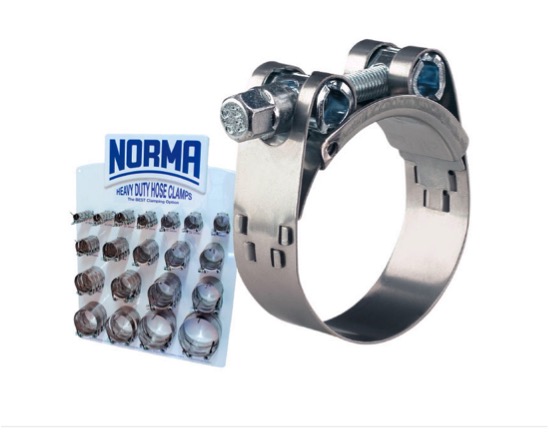 NORMACLAMP® GBS are designed primarily for use in applications where hose clamps must meet stringent requirements. In particular if suction and pressure hoses – complete with plastic or steel inserts and high shore hardness values – are to be connected and attached. They are therefore particularly suitable for use on commercial and special vehicles. Their standout feature is the exceptionally high levels of band tensile force they demonstrate. NORMACLAMP® GBS clamps are also extremely easy to install, whether you're using manual, pneumatic or electrical standard tools.
Norma Group is a global market and technology leader in engineered joining technology solutions, with more than 60 years of manufacturing and product development experience.
Norma products are highly recognised internationally and in high demand at the top end of the market, where people want precision products.
Norma clamps come in a variety of structures and metallurgy, including different grades of stainless and non-stainless steel. They are particularly suitable for use in the dairy, farming, engineering, petrochemical, marine and motor industries.
The NORMACLAMP TORRO multi-range hose clips are ideal for use in many different applications with a high mechanical load. With its tensile strength, the high fracture torque and the even tension force distribution, plus the constantly improved design, it still sets standards for modern hose clips.
There is no substitute for German quality.
W2: Banding & Housing: Stainless Steel (1.4016-430) Screw: Mild steel zinc plated and chromate. New specially designed bolt with integrated spacer – improved performance; captive
Wide clamping range • High tightening forces

Reinforced band loops – ability to withstand much higher torques

Mechanically locked closure – no welding spots and no contact corrosion
Robust band with rounded edges – prevents injuries and damage to hoses.

Hollow trunnions – reduces the tensile forces on the bolt and to the mechanical lock

Corrosion resistance in salt spray testing - Min. 72 hours
Heavy-duty clamps for multiple applications: Machine building • Agricultural machines • Chemical industry • Building machines • Irrigation systems • Engine manufacturing • Ship manufacturing • Pump and filter • Railway industry • Mining Industry
For full Norma range available on request please click here Norma

NORMA HEAVY DUTY HOSE CLAMPS W2
Code
Description
Clamping Range
Band Width
NHDC017
Norma heavy duty hose clip W2
17-19
18mm
NHDC019
Norma heavy duty hose clip W2
19-21
18mm
NHDC021
Norma heavy duty hose clip W2
21-23
18mm
NHDC023
Norma heavy duty hose clip W2
23-25
18mm
NHDC025
Norma heavy duty hose clip W2
25-27
18mm
NHDC027
Norma heavy duty hose clip W2
27-29
18mm
NHDC029
Norma heavy duty hose clip W2
29-31
18mm
NHDC031
Norma heavy duty hose clip W2
31-34
18mm
NHDC034
Norma heavy duty hose clip W2
34-37
18mm
NHDC037
Norma heavy duty hose clip W2
37-40
18mm
NHDC040
Norma heavy duty hose clip W2
40-43
18mm
NHDC043
Norma heavy duty hose clip W2
43-47
20mm
047NHDC
Norma heavy duty hose clip W2
47-51
20mm
NHDC051
Norma heavy duty hose clip W2
51-55
20mm
NHDC055
Norma heavy duty hose clip W2
55-59
20mm
NHDC059
Norma heavy duty hose clip W2
59-63
20mm
NHDC063
Norma heavy duty hose clip W2
63-68
20mm
NHDC068
Norma heavy duty hose clip W2
68-73
25mm
NHDC073
Norma heavy duty hose clip W2
73-79
25mm
NHDC079
Norma heavy duty hose clip W2
79-85
25mm
NHDC085
Norma heavy duty hose clip W2
85-91
25mm
NHDC091
Norma heavy duty hose clip W2
91-97
25mm
NHDC097
Norma heavy duty hose clip W2
97-104
25mm
NHDC104
Norma heavy duty hose clip W2
104-112
25mm
NHDC112
Norma heavy duty hose clip W2
112-121
25mm
NHDC121
Norma heavy duty hose clip W2
121-130
25mm
NHDC130
Norma heavy duty hose clip W2
130-140
30mm
NHDC140
Norma heavy duty hose clip W2
140-150
30mm
NHDC150
Norma heavy duty hose clip W2
150-162
30mm
NHDC162
Norma heavy duty hose clip W2
162-174
30mm
NHDC174
Norma heavy duty hose clip W2
174-187
30mm
NHDC187
Norma heavy duty hose clip W2
187-200
30mm
NHDC200
Norma heavy duty hose clip W2
200-213
30mm
NHDC213
Norma heavy duty hose clip W2
213-226
30mm
NHDC226
Norma heavy duty hose clip W2
226-239
30mm
NHDC239
Norma heavy duty hose clip W2
239-252
30mm
NHDCM
Norma heavy duty hose clip merchandiser
Various clips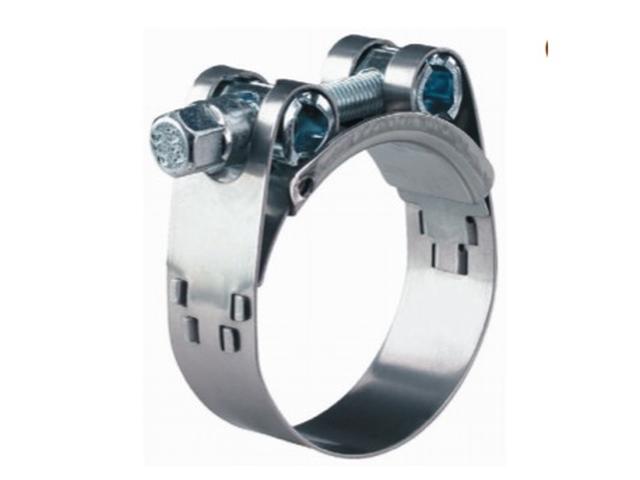 Norma Heavy Duty Merchandiser c/w 75 clamps includes: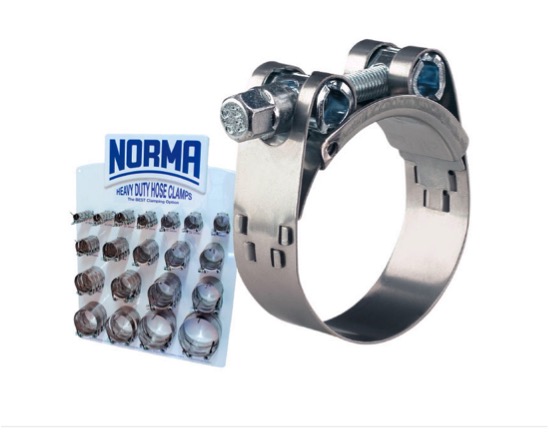 CLAMP SIZES FOR SOME PIPE AND HOSE SIZES:
Medium Density Polythene, and Efluent Pipe:
NHDC059 Fits 63mm OD
NHDC073 Fits 75mm OD
NHDC085 Fits 90mm OD
NHDC104 Fits 110mm OD
Shed Wash Hose:
NHDC034 Fits 25mm
NHDC040 Fits 32mm
NHDC047 Fits 40mm