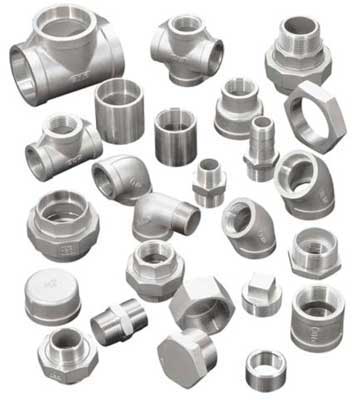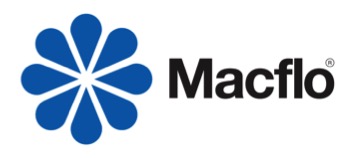 Macflo Stainless BSP Pipe Fittings are a family of fittings used to connect up threaded pipe and equipment in non-critical low pressure situations maximum pressure of 150 PSI. Types of fittings include; Elbows, Tees, Nipples, Reducing Bushes, Reducing Sockets, Hex Caps, Male & Female Elbows, Hose tails and Reducing Nipples.
They can be used in situations where welding or hot work is not possible, they are demountable and are able to be used again. Used to connect valves into lines so maintenance or replacement of valves can take place.
Maclon BSP fittings are all grade 316, lost wax investment cast.
How To Identify:
BSP fittings are measured by NB (nominal bore size). Nominal bore is the inside diameter of the pipe, not the outside diameter. So for example, if the inside diameter of the pipe is 6mm, the BSP size required is 1/8BSP. Here are the common BSP sizes, with the nominal bore in brackets: 1/8 BSP (NB6mm), ¼ BSP (NB8mm), 3/8 BSP (NB10mm), ½ BSP (NB15mm), ¾ BSP (NB20mm), 1" BSP (NB 25mm), 11/4" BSP (NB 32mm), 11/2" BSP (NB 40),
2" BSP (NB 50), 21/2" BSP (NB65), 3"BSP (NB65), 4"BSP (NB100mm).
Tips When Installing Stainless BSP Fittings:-
Make sure enough sealant or PTFE tape is used to make a leak proof joint.
Don't grind or cut pipe using carbon based cutting discs, only use inox cut-off discs, so cross contamination doesn't occur.
REDUCING BUSH
| Code | Description |
| --- | --- |
| SSRB1508 | 15x8mm |
| SSRB2008 | 20x8mm |
| SSRB2015 | 20x15mm |
| SSRB2515 | 25x15mm |
| SSRB2520 | 25x20mm |
| SSRB3220 | 32x20mm |
| SSRB3225 | 32x25mm |
| SSRB4020 | 40x20mm |
| SSRB4025 | 40x25mm |
| SSRB4032 | 40x32mm |
| SSRB5020 | 50x20mm |
| SSRB5025 | 40x25mm |
| SSRB5032 | 50x32mm |
| SSRB5040 | 50x40mm |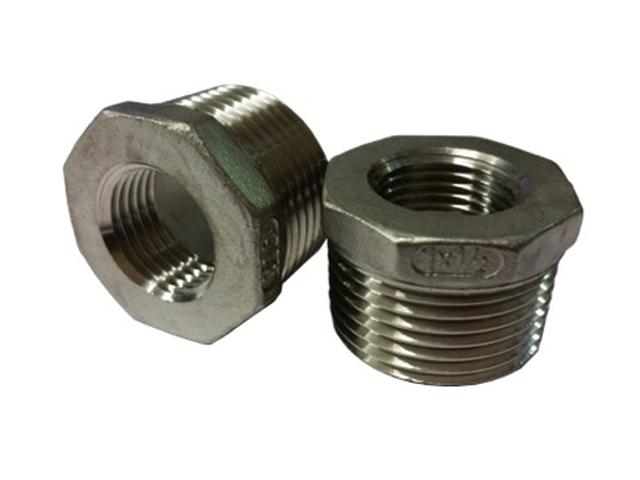 REDUCING HEX NIPPLE
| Code | Description |
| --- | --- |
| SSRHN1508 | 15x8mm |
| SSRHN2008 | 20x08mm |
| SSRHN2015 | 20x15mm |
| SSRHN2508 | 25x08mm |
| SSRHN2515 | 25x15mm |
| SSRHN2520 | 25x20mm |
| SSRHN3220 | 32x20mm |
| SSRHN3225 | 32x25mm |
| SSRHN4025 | 40x25mm |
| SSRHN4032 | 40x32mm |
| SSRHN5025 | 50x25mm |
| SSRHN5032 | 50x32mm |
| SSRHN5040 | 50x40mm |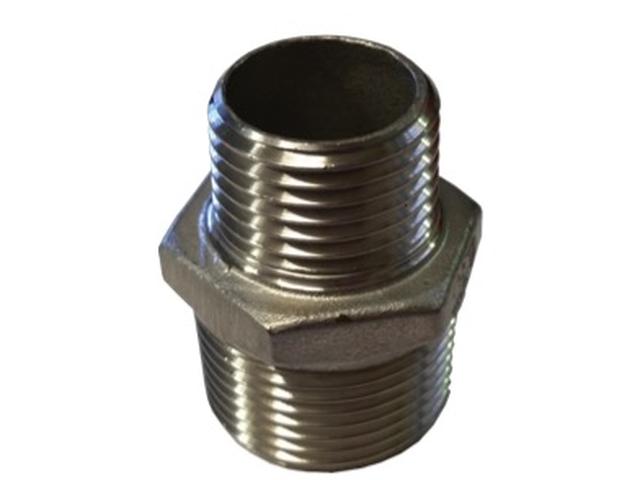 HEX NIPPLE
| Code | Description |
| --- | --- |
| SSHN008 | 8mm |
| SSHN015 | 15mm |
| SSHN020 | 20mm |
| SSHN025 | 25m |
| SSHN032 | 32mm |
| SSHN040 | 40mm |
| SSHN050 | 50mm |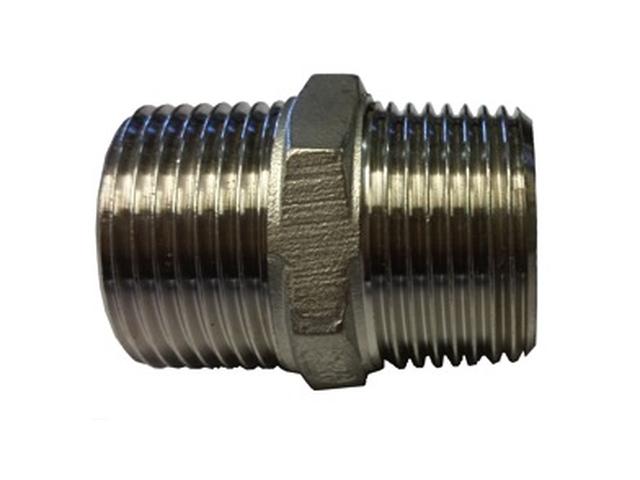 SOCKETS
| Code | Description |
| --- | --- |
| SSS008 | 08mm |
| SSS015 | 15mm |
| SSS020 | 20mm |
| SSS025 | 25mm |
| SSS032 | 32mm |
| SSS040 | 40mm |
| SSS050 | 50mm |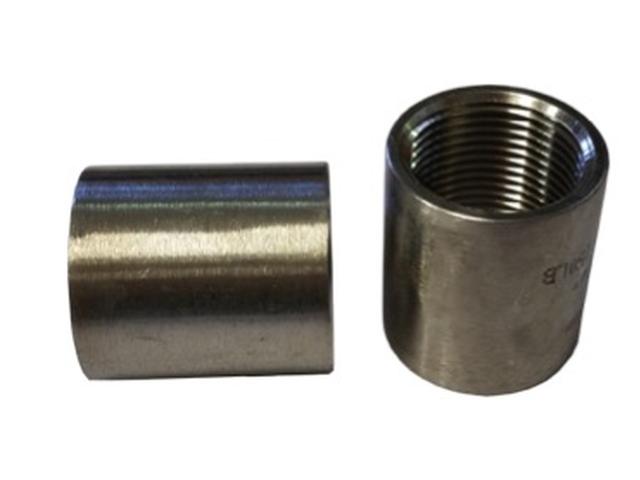 REDUCING SOCKET
| Code | Description |
| --- | --- |
| SSRS2015 | 20x15mm |
| SSRS2520 | 25x20mm |
| SSRS3220 | 32x20mm |
| SSRS3225 | 32x25mm |
| SSRS4025 | 40x25mm |
| SSRS4032 | 40x32mm |
| SSRS5032 | 50x32mm |
| SSRS5040 | 50x40mm |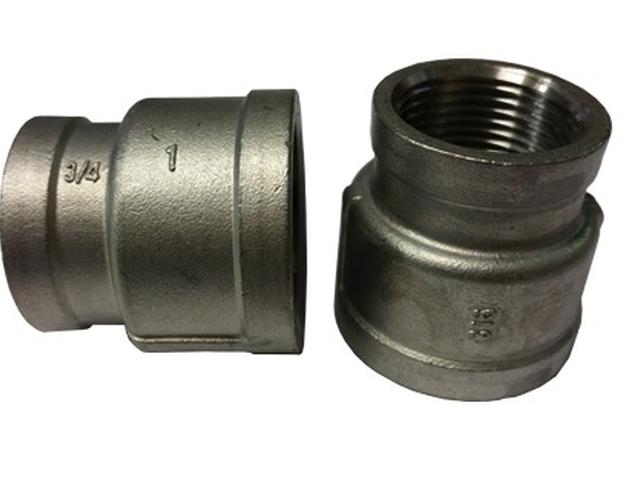 BARREL NIPPLE
| Code | Description |
| --- | --- |
| SSBN008 | mm |
| SSBN015 | 15mm |
| SSBN020 | 20mm |
| SSBN025 | 25mm |
| SSBN032 | 32mm |
| SSBN040 | 40mm |
| SSBN050 | 50mm |
EQUAL TEE
| Code | Description |
| --- | --- |
| SSET008 | 8mm |
| SSET015 | 15mm |
| SSET20 | 20mm |
| SSET25 | 25mm |
| SSET32 | 32mm |
| SSET40 | 40mm |
| SSET50 | 50mm |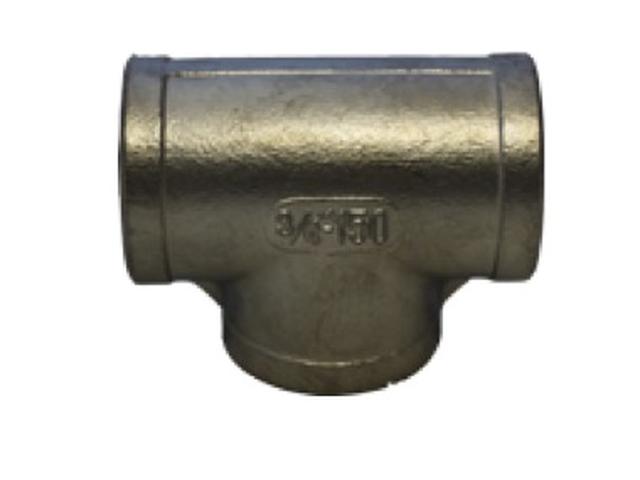 BACKNUT
| Code | Description |
| --- | --- |
| SSBNU015 | 15mm |
| SSBNU020 | 20mm |
| SSBNU025 | 25mm |
| SSBNU032 | 32mm |
| SSBNU040 | 40mm |
| SSBNU050 | 50mm |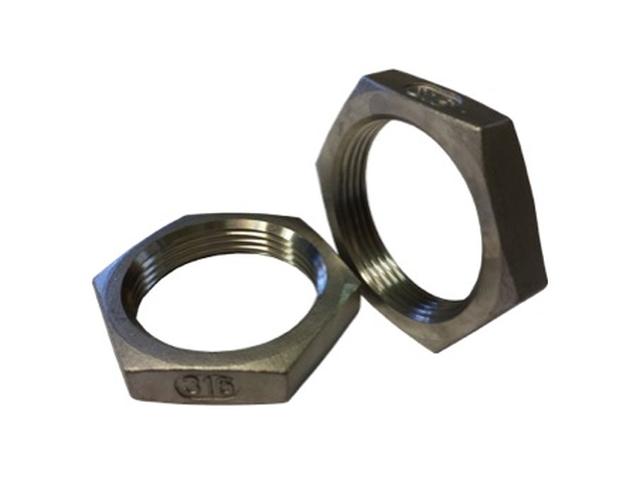 MALE HOSE TAIL
| Code | Description |
| --- | --- |
| SSMHT008 | 8mm |
| SSMHT015 | 15mm |
| SSMHT020 | 20mm |
| SSMHT025 | 25mm |
| SSMHT032 | 32mm |
| SSMHT040 | 40mm |
| SSMHT050 | 50mm |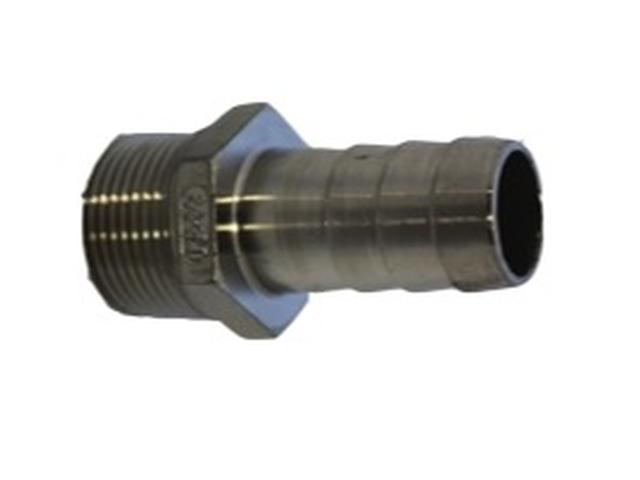 MAC UNION
| Code | Description |
| --- | --- |
| SSMU015 | 15mm |
| SSMU020 | 20mm |
| SSMU025 | 25mm |
| SSMU032 | 32mm |
| SSMU040 | 40mm |
| SSMU050 | 50mm |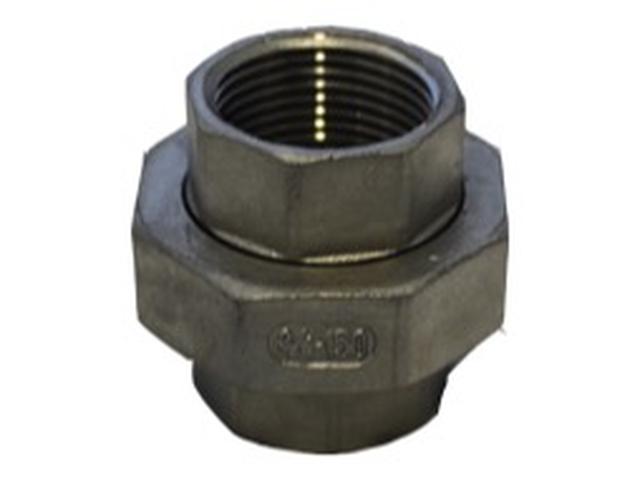 FEMALE ELBOW
| Code | Description |
| --- | --- |
| SSFE008 | 8mm |
| SSFE015 | 15mm |
| SSFE020 | 20mm |
| SSFE025 | 25mm |
| SSFE032 | 32mm |
| SSFE040 | 40mm |
| SSFE050 | 50mm |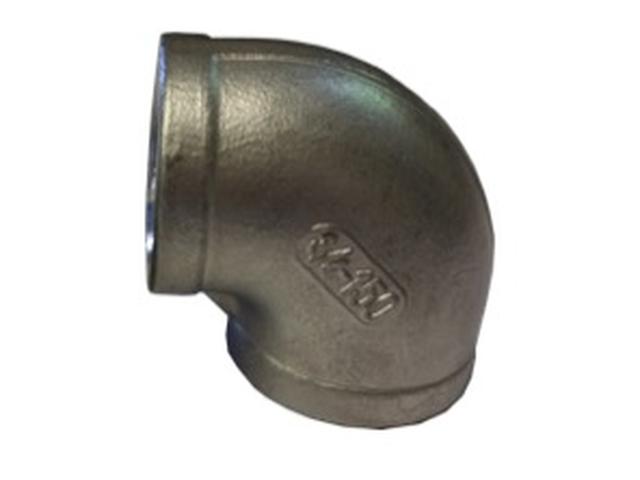 MALE / FEMALE ELBOWS
| Code | Description |
| --- | --- |
| SSMFE008 | 8mm |
| SSMFE015 | 15mm |
| SSMFE020 | 20mm |
| SSMFE025 | 25mm |
| SSMFE032 | 32mm |
| SSMFE040 | 40mm |
| SSMFE050 | 50mm |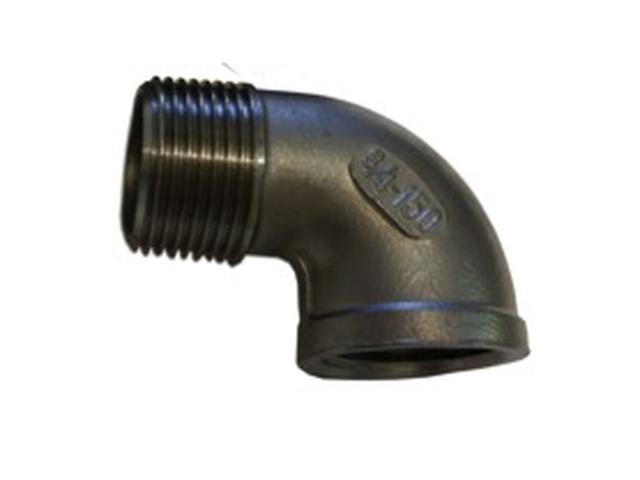 PLUG
| Code | Description |
| --- | --- |
| SSP008 | 8mm |
| SSP015 | 15mm |
| SSP020 | 20mm |
| SSP025 | 25mm |
| SSP032 | 32mm |
| SSP040 | 40mm |
| SSP050 | 50mm |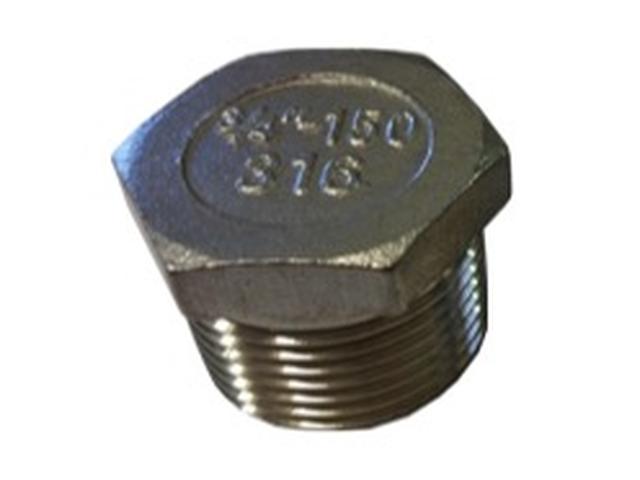 WELD NIPPLE
| Code | Description |
| --- | --- |
| SSWN008 | 8mm |
| SSWN0015 | 15mm |
| SSWN020 | 20mm |
| SSWN025 | 25mm |
| SSWN032 | 32mm |
| SSWN040 | 40mm |
| SSWN050 | 50mm |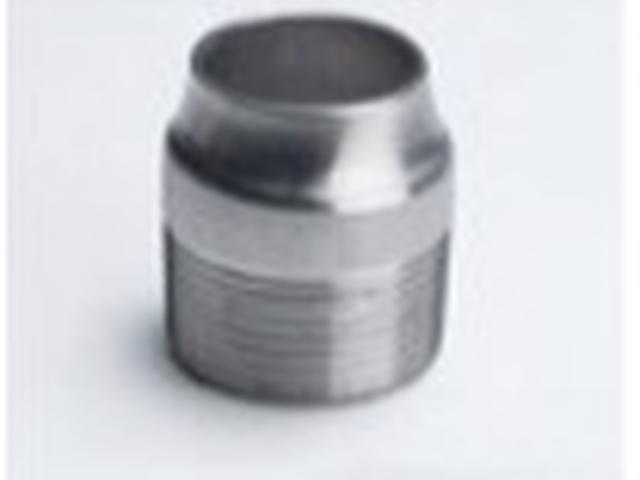 MALE HOSE TAIL
| Code | Description |
| --- | --- |
| SMHT25 | 25mm |
| SMHT32 | 32mm |
| SMHT40 | 40mm |
| SMHT50 | 50mm |
| SMHT65 | 65mm |
| SMHT80 | 80mm |
| SMHT100 | 100mm |